Avet HX 5/2 series reels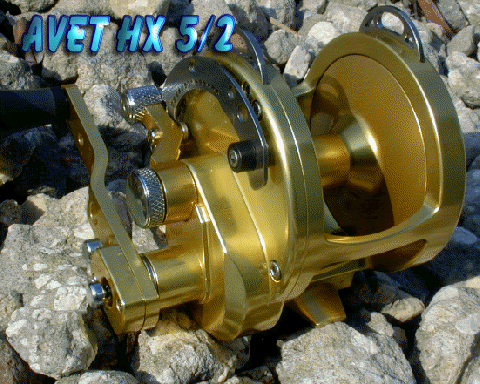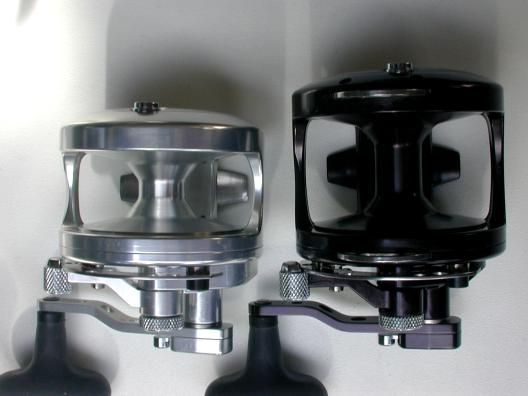 Above: The HXJ Narrow spool and HX standard spool
Avets HX 5/2 series include the HX, HXW wide spool and the HXJ narrow spool fishing reels
Avets HX reels are larger than the LX-JX series, very similar to the 4/0 series reels of the past yet smaller, lighter, more nimble and much faster than the slightly larger Pro 30 size reels at a bargain price. This reel will be at the top of everyones list.
The Avet HX will flat blow away the Trinidads or the Penn Torques, Accurates, or anything else in its size class, while selling for considerably less too boot! About the same size physically as the Trinidad 40, this reel will deliver performance unmatched by anything currently on the market. Our tests have shown incredible casting ability for a reel this size.
An outstanding performer, this reel will pull in 44 inches of line per crank, cast a country mile, and sports reversible harness lugs on its open top design
The high gear ratio of 5.4-1 it is quick enough for jigging, while its low gear of 2.4 can pull most anything to the boat. The inwardly curved handle is designedto place the center of effort as close to the rod as possible eliminating any tendency to wobble on high speed retrieves
Designed for fast predatory fish in mind, this reel with its 5.4 high gear. 2.4 low gear will be quite capable of pulling in small marlin. tuna, giant kings, huge Barra. etc.
Specs:
HX
Weight: 26 ounces
Line Capacity 325/40 mono, 400/80 hollow braid
Drag Pressure: 21 strike-27 max lbs
Gear Ratios 5.4-1 2.4-1
8 s/s Sealed ball bearings
2 Rod Clamps
1 yr factory warranty
HXW wide spool
Wgt. 28 oz
Line capacity: 525 /40, 400/50 mono, 600/80 braid
Drag: 21 strike 27 max
Gear ratios 5:4-1, 2:4-1
8 s/s sealed ball bearings
2 Rod clamps
1 yr warranty
HXJ Narrow spool
Wgt. 25 ounces
Line Capacity: braid 300/80 425/65
Drag: 21 strike 27 max
Gear Ratios 5:4-1, 2:4-1
8 ss sealed ball bearings
2 rod clamps
1 Yr warranty
Prices are USA Dollars, shipping added at checkout
HX 5/2......................................$409.00
HX 5/2 McCast...........................$449.00
HXJ 5/2.....................................$409.00
HXJ 5/2 McCast........................$449.00
HXW 5/2....................................$429.00