Avet Raptor
The Avet Raptor lineup, from the SXJ to the mighty HX series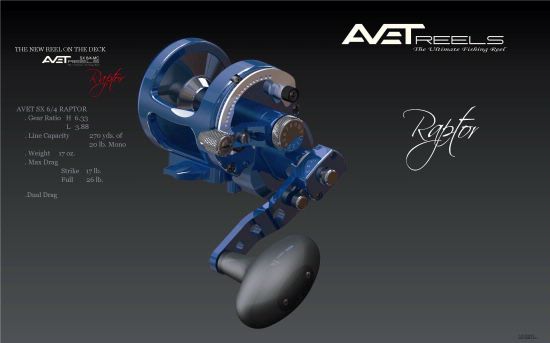 Avets Reels newest model made its debut in September 2009. A lot more then a modified SX on steroids, the Avet Raptor represents a new line of reels Avet will be producing sporting twin carbon fiber drag discs, enormous drag capabilities and superior 8 ball bearing construction. Built using essentially the same platform as their famed Avet T-RX series, these smaller reels will be quite capable of handling species formerly fished with much larger, heavier reels.
The Raptor series from Avet reels will eventually include the JX, LX, and the HX reels in the Raptor dual drag format
A quick look at the details show a ball detent ratchet style drag lever for precision adjustment. A stop on the drag quadrant requires the angler to press a button to advance the drag lever to full, avoiding an accidental adjustment.
Avet constructs the reel from solid bar stock 6061-T aircraft aluminum with all internals of 304 and 316 stainless steel. The bearings are Abec 5 rated stainless steel and SEALED, thus cleaning consists simply of dunking the reel periodically in a fresh water bath to dissolve any accumulated salts that may have formed
The Raptor also has Avets new McCast magnetic cast control system as standard equipment. This system allows for effortless casting with no resulting birdnests. Their thoughfully designed 5 position rare earth magnets gently slow the spool at the precise moment.
The Left Handed version of the Raptors are available in the SX and LX, JX models only at this time, They are in Silver finish only
Overall a nifty new reel that will earn its keep

Specs:

Raptor SX
Gear Ratio: High 5.4-1, Low 1.9-1
Weight: 29 ounces
Line capacity: 325/50 Braid w/ short topshot
8 S/S Sealed Ball bearings
Dual Carbon Fiber drag disc. 40Lb strike, 50 full drag
Removable, reversible Harness lugs
Rod clamp, tool kit, warranty, in box
Ball detent micro drag adjustment
Available in 5 colors, Silver, Gold, Blue, Purple, Black
McCast magnetic cast control
Optional Power handles (uses a Pro 50 Handle
Left Hand not available at the present time, email us for more info
Priced in USA dollars
Avet Raptor SX.........................$395.00
---
Avet MX Raptors
Avet MX and MXJ Raptors have the following specs
1) Dual drag discs
2) 7 ~Abec 5 S/S Ball bearings
3) 18ls drag strike, 28 lbs full
Avet Raptor HX

Traditionally when targeting 250-500 pound species, the reels of choice were either the International 30 or 50 size reels. Popular choices were the Penn International or Shimano Tiagra.
These reels were adequate and while fighting the fish in a chair, these worked fine, despite their bulk and heavy weight
Enter the Avet HX Raptor, wow, with 50 pounds of drag at full and 40 pounds at strike it is a fish stopping MACHINE. Sporting dual carbon fiber drag discs, Avets McCast mag system,
a smooth 2 speed gear system, this reel will become your favorite.

Part of a new generation of lighweight extremely strong reels Avet is developing. This reel weighing under 2 pounds that has more drag than the standard International 30 Class reel from either Penn or Shimano. One third of their weight it can cast easily for 70-90 or more yards with no birdnests either.

Tradition goes out the door when you consider what this reel can do. Perfect for todays angler that uses a stand up technique when fighting his fish
The HXW Raptor does not come with the McCast mag system, the factory thought is this is primarily a trolling or deep drop reel. Not really necessary for a mag casting system. It does come with the large handgrip as seen on the Pro 50 reels
Avet Raptor HX McCast 5/2
$504.99 USA Dollars
Avet Raptor HXW 5/2
$512.99 USA Dollars