Avet Pro EX50W Fishing Reels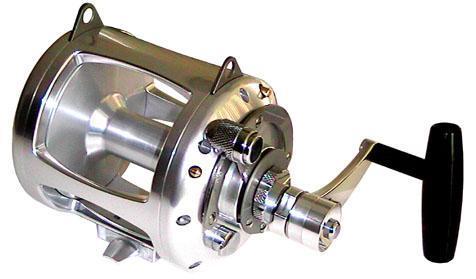 Above: Avet Pro EX50W fishing reel
When you need drag pressures of 50 plus pounds and lots of line , the Avet 50's are your reel of choice. Lighter than competing brands , the Avet 50 's are superior in every aspect.
The ability to pull 57+ pounds of drag gives the big game angler a new weapon . Traditionally to get this drag range you had to use beefed up 9/0 or 12/0 reels with their accompanying weight and bulk. This reel will replace them with a lighter stronger design.
Tired of frequent trips to the shop for replacement of bearings, drag washers and more? The brothers at Avet reels designed this for the harsh saltwater enviroment. Simple maintainance will keep it running smooth for many years.
Employing dual space age carbon fiber drag washers sqeezing a titanium drag rotor, 8 SEALED stainless ball bearings, all 304 or 316 stainless steel internal components and an Aircraft/Marine Grade 6061-T aluminum body, this reel will be out catching fish while the others are in the shop being rebuilt.
The Avet Pro EX50W, quite simply, outclasses the competition
Lever Drag 165 degree Arc

Weight 67 ozs. Line Capacity approx. 950/50 Std mono

2 speed Gear Ratio 3:2-1high , 1:3-1

low

Massive Dual Drag, Carbon Fiber discs, Titanium Brake Plate

8 Abec 5 Stainless Steel

sealed

ball bearings

Line out Adjustment for live bait presentation

50 lbs of drag at strike, 57+ at full

Single speed also available 3:2-1 Ratio, same drag system

Stocked in Gold Silver, Blue, Purple, or Black

Easy push button "on the fly" shifting
Prices in USA Dollars, Shipping will be added at checkout
Pro EX50W 2 speed..................................$599.00