Avet T-RX Fishing Reels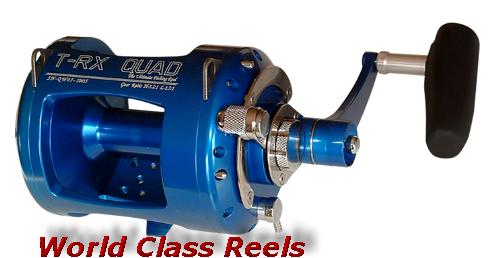 Avet T-RX 50W

NOTICE, We have the Avet TRX 50W in stock in 3 colors
Avet Quad Drag T-RX Reels
Jan. 31, 2011, Prices slashed on the T-RX 50's, see below Save $$$ $250 per reel
A quick look at the specs on these reels will reveal they are a no-nonsense business machine. The only other reels we know of that can pull 100+ pounds of drag and last would be the Everol 14/0 and 18/0's.
Avet persued the design and engineering of this series to take full advantage of the newest Spectra braided lines. Their thought was to design a 50 sized reel to take full advantage of the thin, immensely strong characteristics of the superbraids. Creating the Quad T-RX series, a relatively compact lightweight that can handle 130 to 200 lb Spectra with no problems.
Sporting twin Titanium floating brake rotors and four huge carbon fiber drag discs, Avet has come up with a reel that overshadows all of the 130 lb class reels on the market, yet only weighs 79 ounces in the wide version. Its obvious a 6/0 frame size will not spool a comparable amount of mono as a 12/0 130 lb class, therefore spectra with a mono topshot is a must for best performance.
To absorb the intense pressures that can be exerted on the shaft, the Avet T-RX spins on 7 ABEC 5 Rated Sealed stainless steel ball bearings, with 2 more in the molded rubber crank knob
Our customers that have bought the Avet Quad T-RX have given it rave reviews on grander Marlin, bringing them to the boat in relative ease. Ditto on the giant Bluefin with reports of 5-600 pounders caught with little effort.
For the T-RX 50'sWe advise rigging with130 or heavier hollow Spectra with a topshot of corresponding weight mono, say 100 to 200 yards to allow stretch. The 50W's will spool a total of 600 yds of 130 hollow Spectra with a topshot of approxiamately 115 to 175 mono depending on weight and diameter. Total of over 700 yds..
The T-RX 30W will spool 500/130 hollow with enought room for a short 25-30 yd wind on leader
Overall these are very tough reels that are quite capable of handling anything in the sea thats catchable. Pricing is typically Avet, aggressive , they want these reels in the hands of anglers who can utilize them to their maximum performance. If this is the class reel you fish it will be worth your while to take a serious look.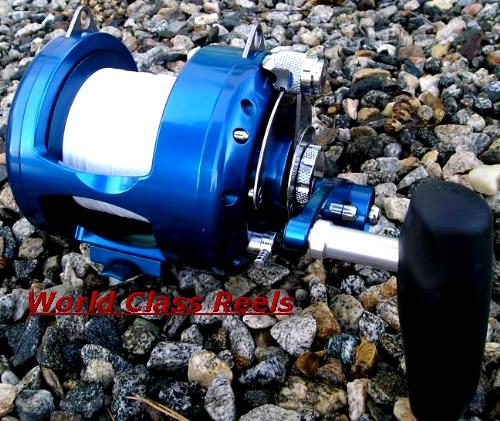 Above:Avet T-RX 50 Topless reel
Priced in USA dollars, shipping will be added at checkout
T-RX 30W 2 Spd ...............................$750.00
T-RX 50 TOPLESS 2 Spd...........$899.00/Sale $649.00, Sorry SOLD OUT, will be available on Sept 15th, 2013
T-RX 50W 2 Spd........................$999.00/Sale $749.00 In STOCK